Filmscreening (sunday 12/11) : Running for Freedom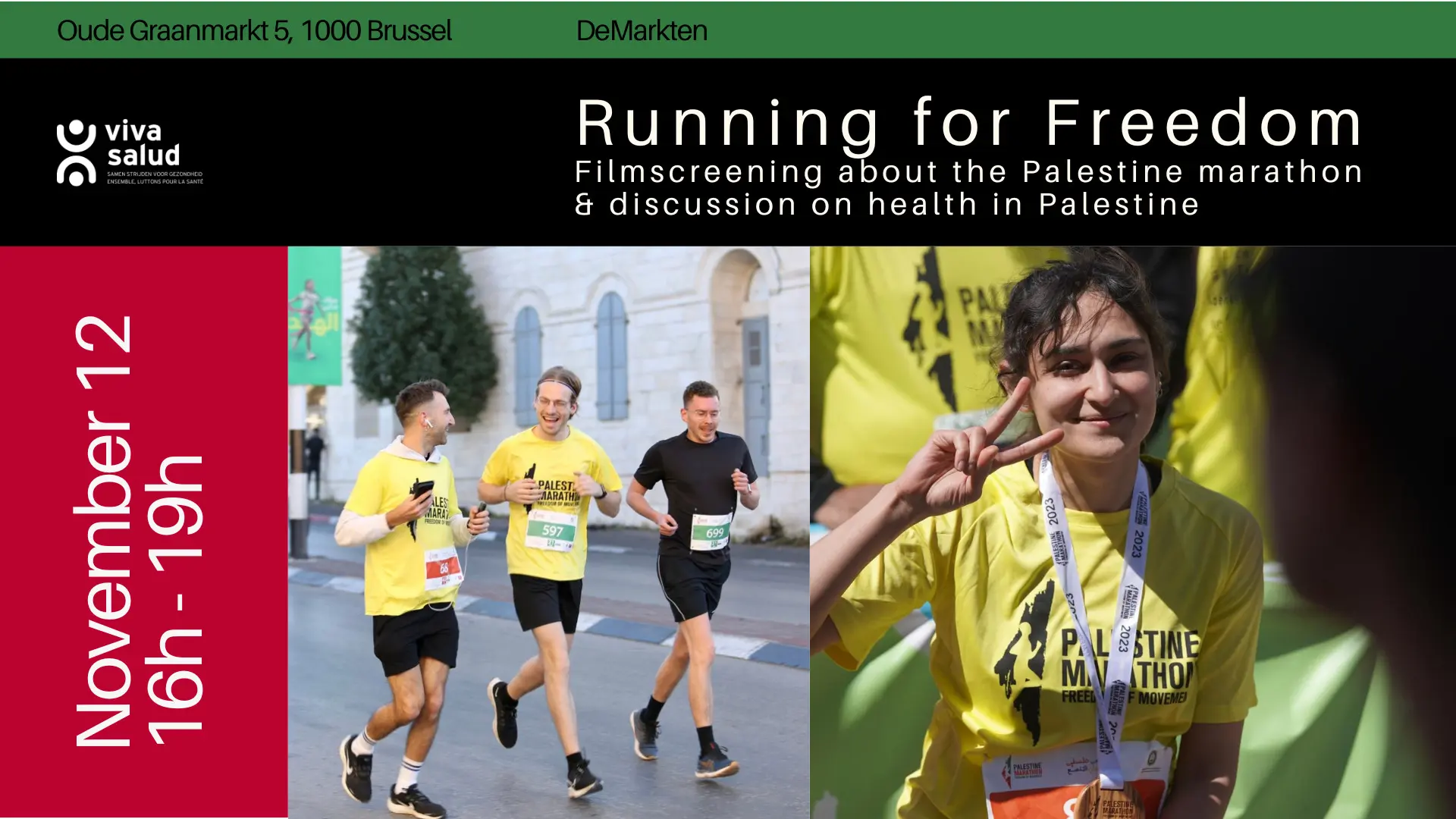 Join us on Sunday 12 November at 4pm at De Markten in Brussels!
In March 2023, the running team of Belgian NGO for the Right to Health Viva Salud headed to Bethlehem to take part in the Palestine Marathon. Little did they know beforehand that they would be doing much more than running. From Ramallah to Hebron, from Nablus to Bethlehem, their meetings with Viva Salud's Palestinian partners helped them get a better picture of the situation in the country and discover the daily reality of the Israeli occupation. To learn about resistance in all its forms, along with the Palestinian beauty they tried to capture in this documentary-vlog of their journey. A cocktail of revolt, solidarity and collective resistance.
Viva Salud works with three partner organisations in Palestine. One is AWDA, a health organisation that runs two hospitals and six health centres in the Gaza Strip. Since 7 October, AWDA staff have been under unprecedented pressure. The hospitals and staff are suffering from increasing injuries and casualties, the damage caused by neighbouring bombings and the shortage of medical equipment, electricity and food.
After the film screening, we will discuss the current war and health situation in Palestine and how 75 years of occupation preceded the genocide taking place in Gaza today. Wondering what we can do from Belgium? Be sure to stick around afterwards for a chat, snack and drink.
—
Program:
4pm: short intro + screening Running for Freedom
5 pm: discussion about health in Palestine
6 pm: snacks and drinks
—
Registration is possible via this link: https://forms.gle/bRjcRPyFNyA6FXt26
The film screening will be in French and Dutch. The discussion afterwards will be in Dutch and English.