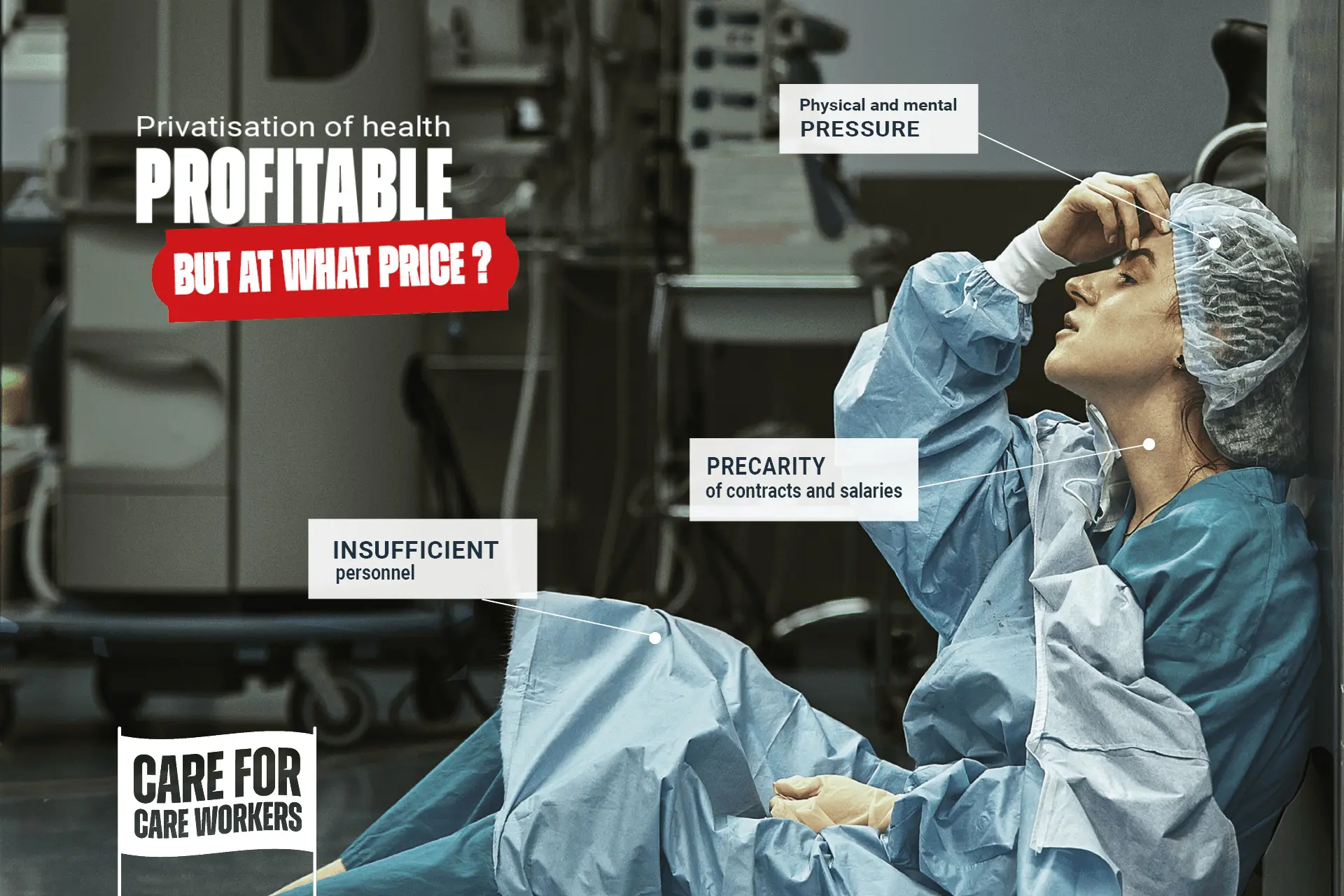 Austerity and commercialization: a tragedy for workers
One method of saving money in the health care sector is to reduce spending on occupational health and safety. The COVID-19 pandemic has painfully demonstrated this. Although health care workers work in dangerous conditions, they are not provided with sufficient safety equipment. The shortage of masks, hydroalcoholic gel and gloves has made staff particularly vulnerable to infection. According to the WHO, as of May 2021, approximately 115,000 caregivers worldwide have died from COVID-19 after one year of the pandemic.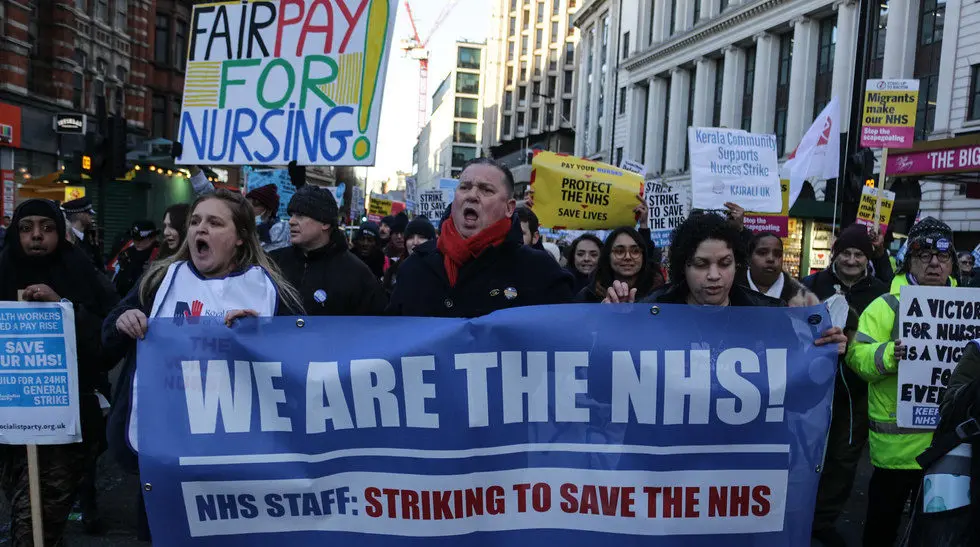 Increased workload
Health care workers around the world are speaking out. They are frustrated with their working conditions and the way they have to do their jobs. The pandemic has caused many people to leave the health sector. As a result, there are now far fewer people working in healthcare. The workload is massive and the profession is becoming more and more labour intensive. Cheaper, more flexible, more efficient. Time management and paperwork are favoured at the expense of quality care.
This can also be seen in nursing homes, especially when private actors manage the care. There is no time to discuss with the patients, everything is scheduled to the minute. The quality of care decreases and the nursing staff no longer finds satisfaction in their work. Stress, physical problems and burnout are the inevitable consequences. The extended time off of staff members logically increases the workload of their colleagues.
Less safety at work
During the pandemic, there was a lot of applause for health care workers. But today, there is still no real support. The working conditions of health workers remain highly questionable, especially in the private sector. A study on healthcare workers in Catalonia shows that nurses in the private sector are more likely to work at lower wages and irregular hours than those in the public sector. This has a significant impact on their mental and physical health. In addition, temporary work is on the rise around the world. It is becoming increasingly difficult to obtain a permanent contract. For example, in an expanding private sector in India, permanent contracts are rare.
As a result, health care workers are often paid less, or just above the minimum wage. Sometimes private sector pay is more attractive than public sector pay, but the precarious contracts mean that workers accumulate fewer pension, sick leave or unemployment benefits. In addition, overtime is not always paid and the risk of unjustified dismissal is very high.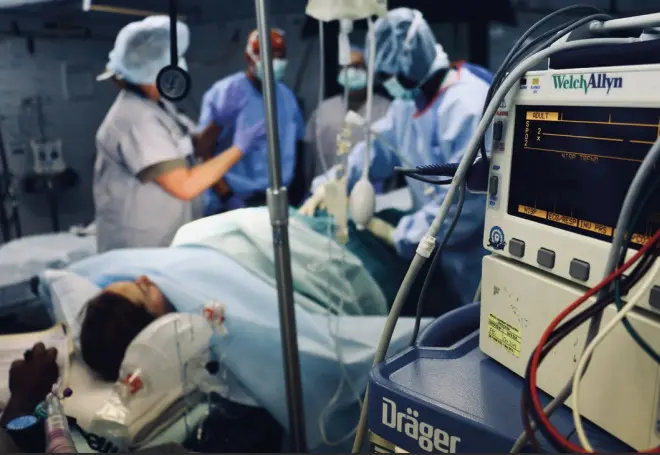 As a result, health care workers are often paid less, or just above the minimum wage. Sometimes private sector pay is more attractive than public sector pay, but the precarious contracts mean that workers accumulate fewer pension, sick leave or unemployment benefits. In addition, overtime is not always paid and the risk of unjustified dismissal is very high.
Weaker syndicates
Together we are stronger! This is the ambition of the syndicates: they unite the health care workers and act with one voice. They are the lever to tackle unhealthy working conditions in a targeted way. Syndicates negotiate better pay conditions, denounce lack of flexibility and ensure that workers' rights are respected. However, in the private sector, the number of unionized caregivers is much lower. In Poland, for example, only 5% are unionized.
Health care workers everywhere are even losing their jobs for joining a union. And some private health care companies are doing everything they can to prevent the formation of unions. This is called union busting and goes against article 23 of the Universal Declaration of Human Rights (UDHR): everyone has the right to form and/or join a union.
LET'S TAKE AN EXAMPLE FROM THE UK

"Understaffing costs lives!" This message has resonated repeatedly in the United Kingdom since December 2022. For the first time, tens of thousands of nurses have been protesting. Through this historic strike, they called for the strengthening of the NHS, the British national health service.

At the same time, on January 10, 2023, the Conservative government in the United Kingdom decided to introduce a controversial strike bill in Parliament. The bill allowed the government and employers to require health care workers to provide a minimum service during a strike. The bill applied to the health and education sectors in particular. These are the very sectors that took to the streets in large numbers in the months preceding the government's announcement. The bill made it easier for employers to fire striking workers and sue unions. This is a slap in the face for British public sector workers, who consider strike action to be their last resort in the face of the unbearable cost of living in the United Kingdom.
Brain drain
Finally, the outsourcing of health care to commercial investors is detrimental to the public sector, as it diverts scarce resources such as skilled professionals. One example is the way in which the presence of the private for-profit sector in one country, or the medical tourism industries in neighboring countries, lures health professionals away from the public sector by offering them higher salaries. This internal and international "brain drain" or "care drain" leads to a shortage of health workers in the public sector as well as in rural areas. This results in a lack of access to quality health care for a large part of the population.

Low-income countries are particularly affected. They are seeing large numbers of their health professionals migrate to high-income countries, which are trying to solve their own shortages, causing others elsewhere. Low-income countries bear the cost of training health workers, while high-income countries reap the benefits. The International Organization for Migration estimates that low-income countries lose $500 million a year due to the migration of health professionals to high-income countries.
65% of all health care workers worldwide work in North America and Europe, yet these regions carry only 20% of the global disease burden. Africa, which carries 24% of the global disease burden, has only 3% of all health care workers.
Big Pharma's thirst for profit vs. health care professionals
Big Pharma has made huge profits in recent years. In 2022, Pfizer earned $100 billion. A record. That's as much as the total health spending of 100 countries combined. Yet the COVID-19 vaccination campaign can hardly be called a success.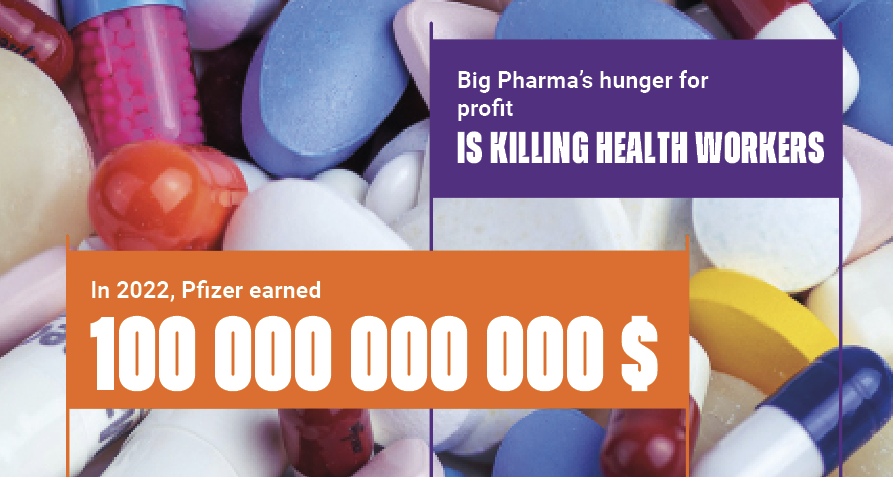 Especially for health care workers in low-income countries. By the end of 2021, after one year of vaccination, only one in three health workers had been vaccinated. This is despite the fact that health workers have been identified as a priority group for vaccination against COVID. Big Pharma's thirst for profit is killing health care workers.
---
ACT CONCRETELY BY OUR SIDE :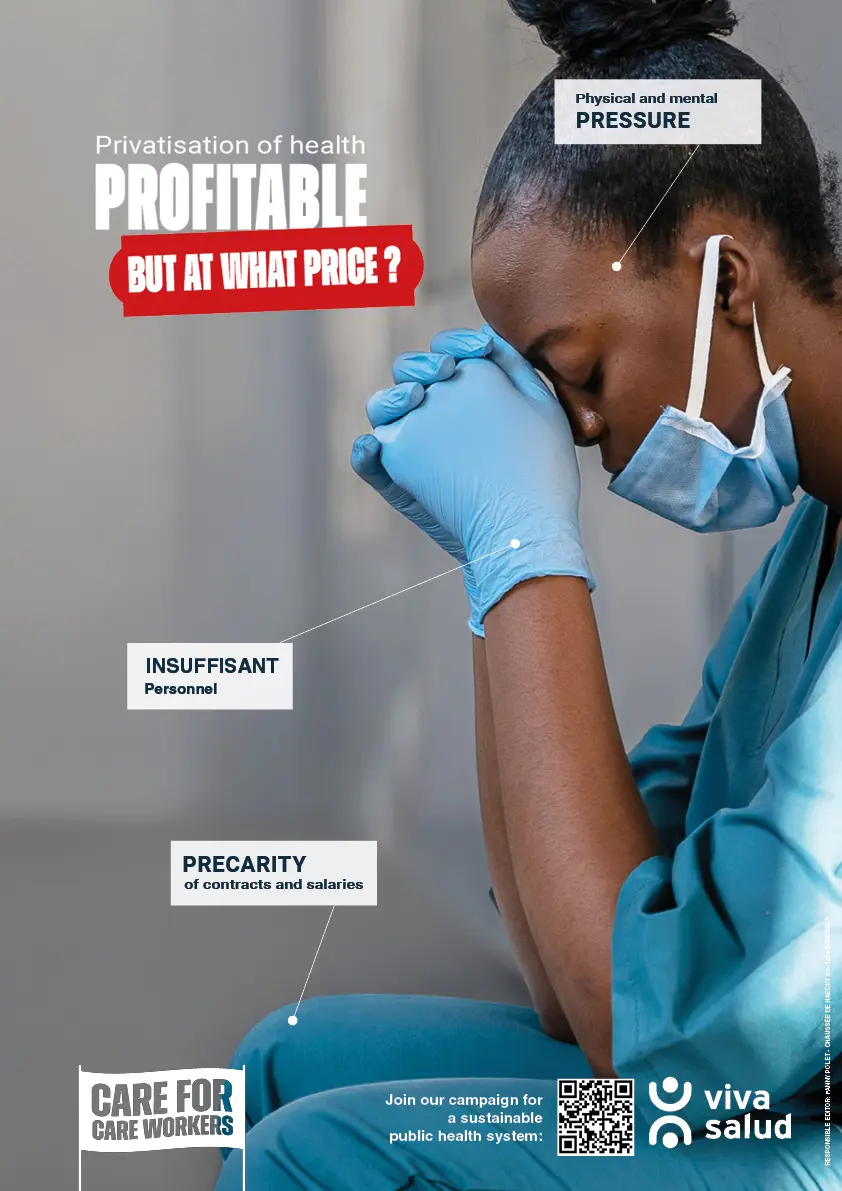 ORDER OR DOWNLOAD OUR FREE POSTERS* AND STICKERS ! (FR and NL)
Do you want to actively support the caregivers? Great! We're happy to send you our posters and stickers to spread the word!
*Our posters can only be pasted in authorized areas.
---
ORGANIZE A POSTER CAMPAIGN IN YOUR NEIGHBORHOOD
Can you help us spread our campaign message as widely as possible? Organize a poster campaign and hang posters in hospitals, in the waiting room of your local community health center, in cultural centers, or in other high-traffic areas in your neighborhood.
Contact Marilyse for more information and we will help you in your process.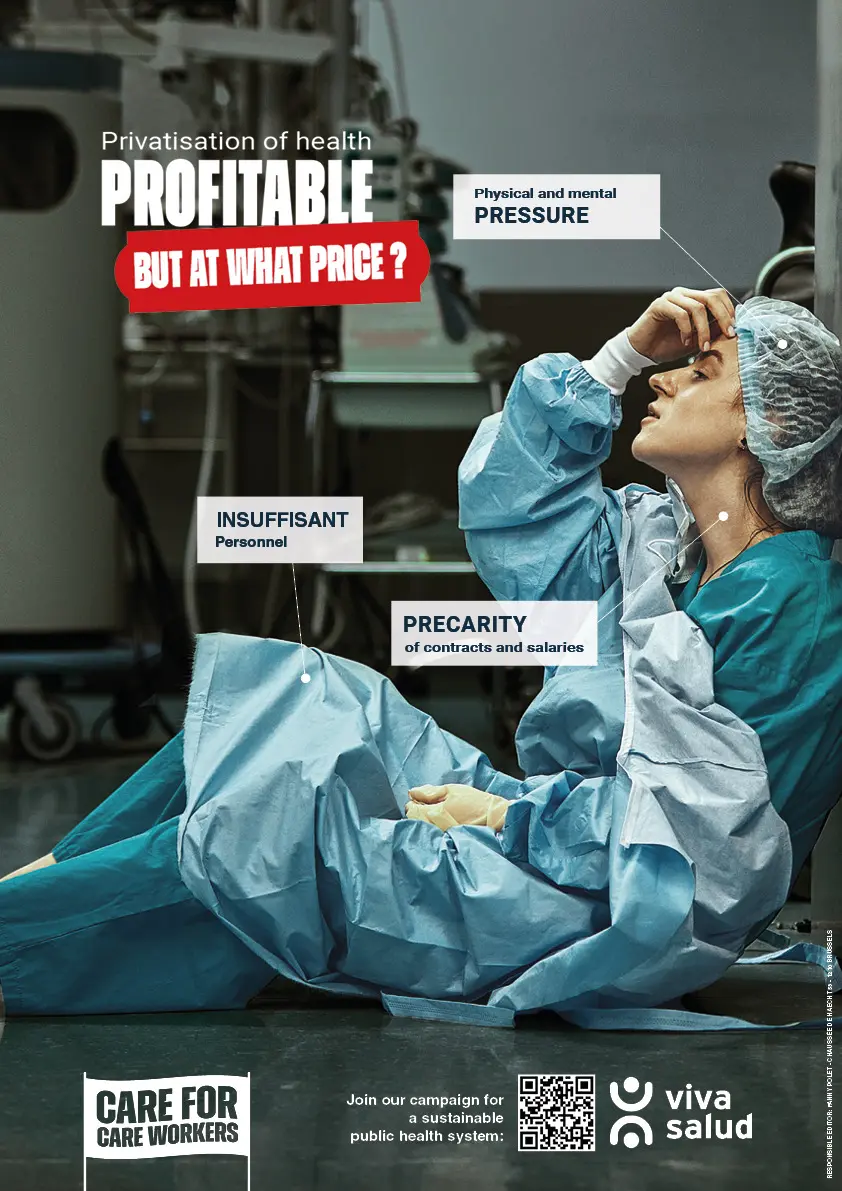 ---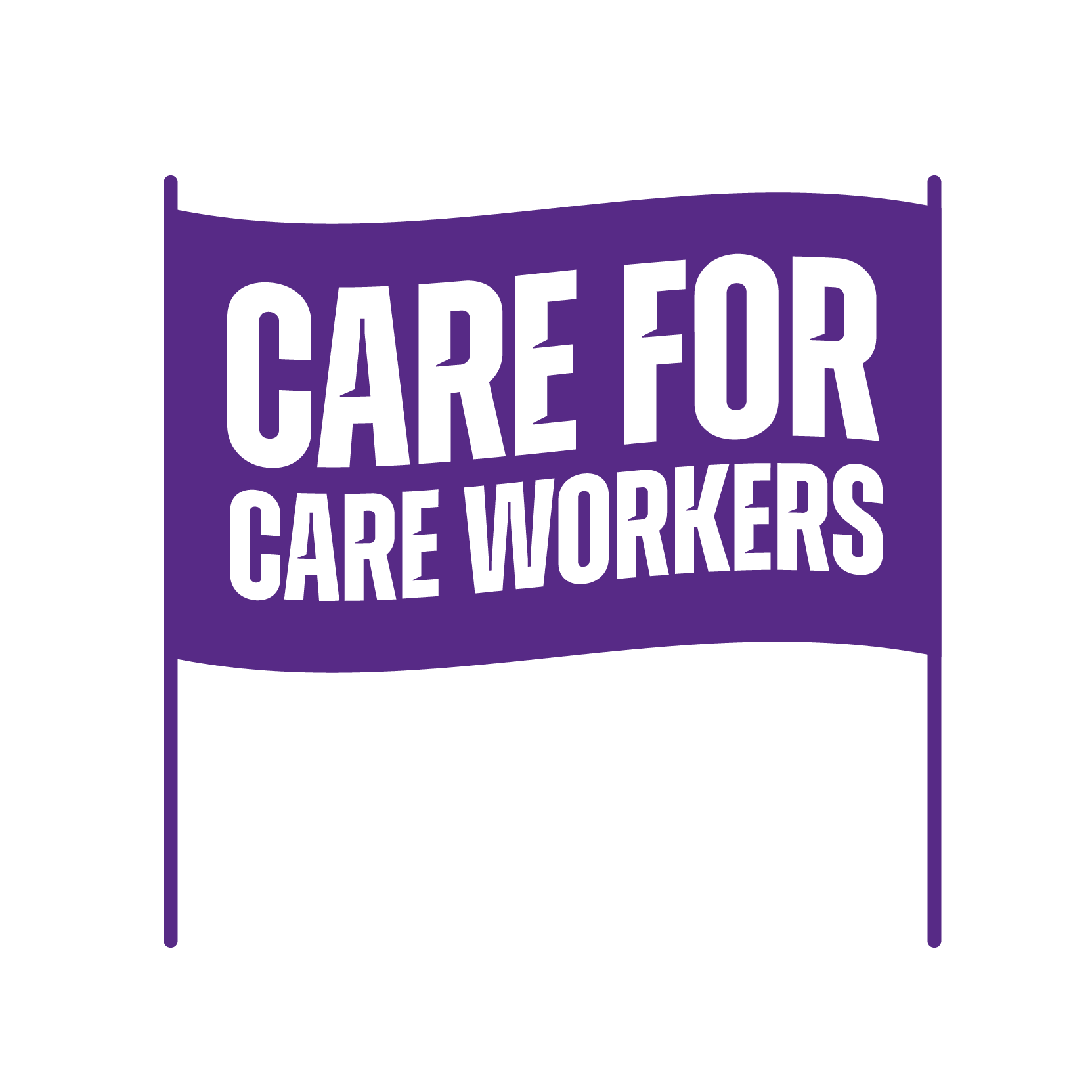 MAKE A DONATION
With your donation, social movements can keep the pressure on and oppose the privatization and commercialization of our health care.
Support the Care for Caregivers campaign by making a donation to Viva Salud's account
BE17 5230 8138 7321 (mention: Zorg-Soin).
---
SHARE YOUR EXPERIENCE
Are you or do you know a health worker? Do you want to witness the poor working conditions in the health sector and support the efforts of health workers around the world?
Send an email to Nicky.