Zoom into the struggle for health: webinar-reeks over de strijd tegen corona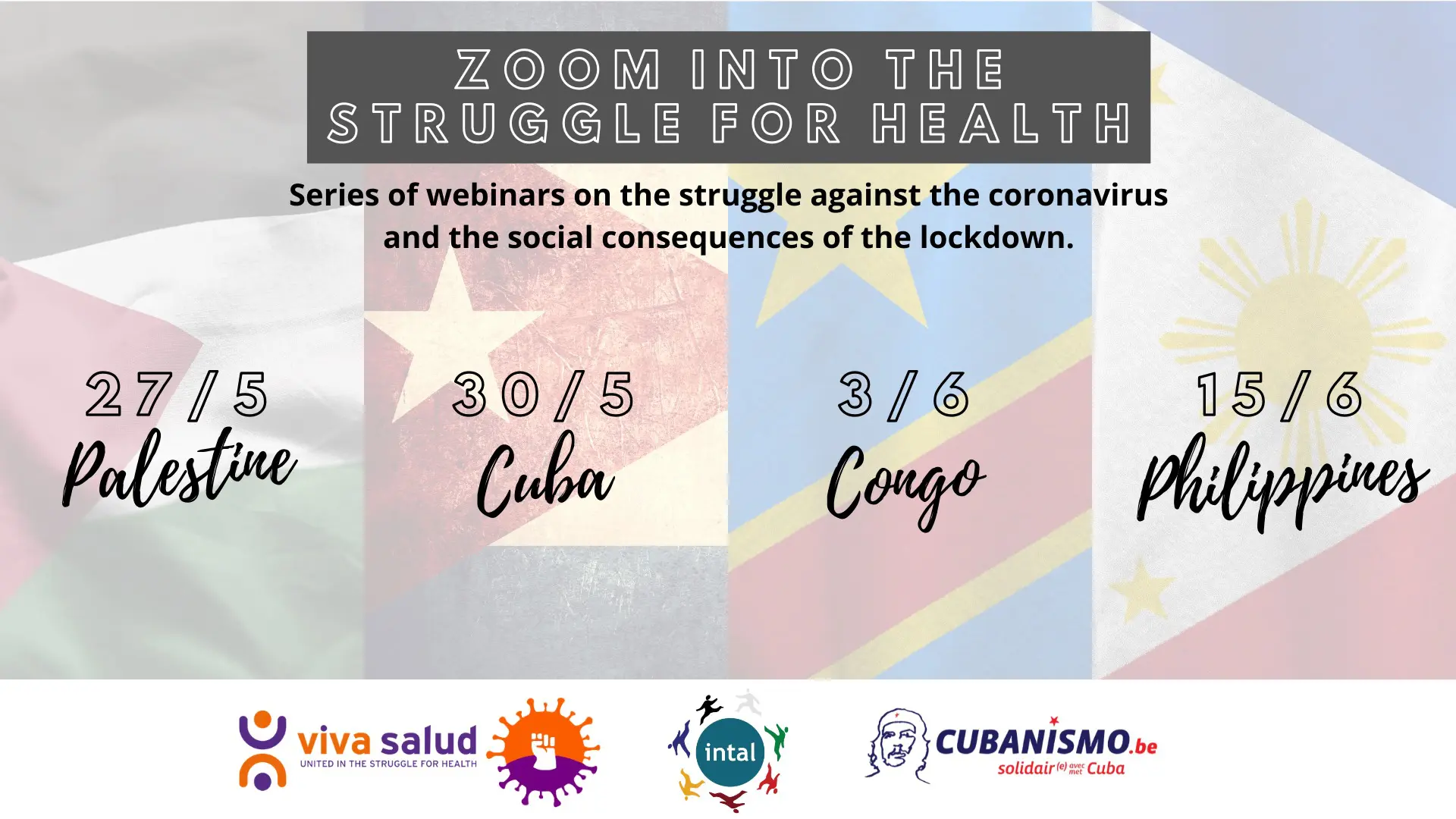 Samen met intal en Cubanismo organiseren we een reeks webinars over de strijd van onze partners tegen het coronavirus. Tijdens iedere sessie praten we met medewerkers van organisaties uit de Filipijnen, Congo, Palestina en Cuba.
Wil je graag bijleren over de rol van vrouwen in de strijd tegen het coronavirus in de Filipijnen én in België? Of ben je geïnteresseerd in de Congolese of Cubaanse aanpak van infectieziektes? Hoe verrichten de Palestijnse partners eigenlijk hun werk onder een dubbele lockdown? Altijd al eens in contact willen komen of vragen willen stellen aan één van onze partners? Dan is dit je kans!

Je kan de webinar volgen via Zoom en via Facebook live in de groep Viva Salud: Support the worldwide struggle against the coronavirus. We delen de livestream ook op de Facebookpagina's van de deelnemende organisaties. Informatie over vertaling volgt later.

Je kan je vragen telkens vooraf doorsturen naar de verantwoordelijke van de webinar (zie hieronder). Ook tijdens het event kan je via Zoom en Facebook live vragen stellen.

Hieronder een overzicht van de verschillende webinars:

WOENSDAG 27 MEI: DUBBELE LOCKDOWN IN PALESTINA: COVID-19 ONDER MILITAIRE BEZETTING
Tijdstip: 19u30-21u
Zoomlink: https://us02web.zoom.us/webinar/register/WN_76BCqE-vR_-YE5qsrI-fyA
Vragen: nicky@vivasalud.be
Taal: Engels
Sprekers van Bisan, HWC en UHWC vertellen over de gezondheids- en socio-economische aanpak van de coronacrisis in Palestina.

ZATERDAG 30 MEI: DE GRASSROOTS AANPAK VAN DE CORONACRISIS IN CUBA
Tijdstip: 19u30-20u30
! Deze webinar vindt enkel plaats via Facebook live op Viva Salud: support the worldwide struggle against the coronavirus en op de pagina's van Viva Salud en Cubanismo. Er wordt geen gebruik gemaakt van Zoom.
Taal: Nederlands
Vragen: isabelle.vanbrabant@cubanismo.be
Cubanismolid en ex-medewerkster van Viva Salud Julie Steendam verblijft momenteel in Cuba en interviewt Aissa van onze partnerorganisatie Centro Felix Varela over hun rol in en aanpak van het coronavirus.

WOENSDAG 3 JUNI: VAN EBOLA TOT CORONA: DE STRIJD TEGEN INFECTIEZIEKTES IN CONGO
Tijdstip: 19u30-20u30
Zoomlink: https://us02web.zoom.us/webinar/register/WN_92_audflRSeEKWIU1EdJoQ
Vragen: thomasdetrogh@hotmail.com
Taal: Frans- vertaling naar Nederlands
Erick van Etoile Du Sud vertelt over de aanpak van de verschillende infectieziektes die Congo teisterden de afgelopen jaren. Wat zijn de grootste uitdagingen? En welke verschillen zijn er tussen het coronavirus en andere infectieziektes als Ebola?

MAANDAG 15 JUNI: VROUWEN IN BELGIE EN DE FILIPIJNEN IN DE FRONTLINIE TEGEN HET CORONAVIRUS
Tijdstip: 13u-14u
Zoomlink: https://us02web.zoom.us/webinar/register/WN_T_ORRXSqT9aVXGh5HuiHuA
Vragen: ueba.ikuko@gmail.com
Taal: Engels
Joms Salvador, secretaris-generaal van Filipijnse vrouwenrechtenorganisatie Gabriela, gaat in gesprek met een Belgische vrouwenbeweging. Wat is de rol van vrouwen in de frontlinie tegen Covid-19? En met welke specifieke uitdagingen worden ze geconfronteerd? Laura Baeyens van intal modereert.