Philippines : 'Health workers must also be activists'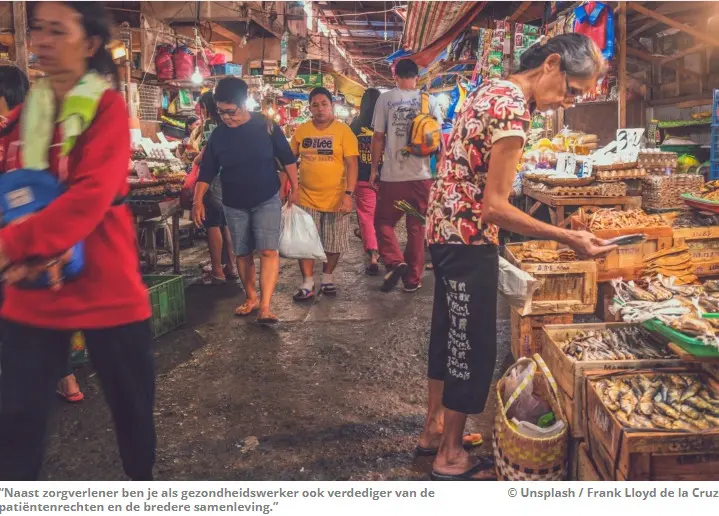 This article was previously published on Sociaal.Net as part of the Social Work in the World dossier. Around the world, social professionals and their organizations work every day to sustainably improve the position of vulnerable people. But this knowledge and expertise rarely seep through. Together with 11.11.11, the umbrella organization of International Solidarity, Sociaal.Net wants to change this.
In the Philippines, working in health care is not without risk, especially if you are critical toward the government and advocate for your patients' rights. "Health work does not begin and end in the hospitals. We also have to look at what makes people sick, such as poverty, lack of education and shelter."
The power of community health workers
Health is a basic right. Access to health care and healthy living are political choices. That's what health workers at the Philippine Council for Health and Development (CHD), a partner of Belgian NGO Viva Salud, agree on.
Katherine Berza, better known as Kat, has worked at CHD for 15 years. As a policy officer and activist, she is closely involved in the daily work of neighborhood health workers, also known as community health workers.
"Today in the Philippines there are more than ten thousand volunteer health workers."
"Neighborhood-based health programs really appeal to me because they strengthen the internal power of neighborhoods," Kat said in an interview with Viva Salud during a visit to Belgium. "Some neighborhood health workers can't even read or write, but they have a big heart and a strong will to do meaningful work in their neighborhoods, without expecting anything in return."
The first neighborhood health projects in the Philippines start in 1973 on the islands of Luzon, Visayas and Mindanao. Inspired by the Chinese "barefoot doctors," three nuns train people with no medical background to become neighborhood health workers. This compensates for the severe shortage of health professionals in remote places.
Because of its great success, neighborhood health programs sprung up all over the Philippines. CHD is the umbrella for all these different initiatives. Today there are more than seventy programs running and more than ten thousand volunteer health workers in the Philippines.
What do community health workers do?
District health workers provide health care and are therefore an important point of contact in their neighborhoods. They know what is going on among the people. In addition, they participate in social programs that strengthen cohesion among residents.
In the ideal scenario, one health worker accompanies 15 families. This keeps the care quality. The community health workers are appointed by local residents. This lends them a certain credibility. No distinction is made based on education, religion or economic status.
"Neighborhood health workers know what's going on among people."
They are people with strong awareness around health care shortages in the Philippines. They are proud to contribute to the reduction of those shortages and the well-being of neighborhood residents. The neighborhood health workers do not receive a salary. They have other paying jobs or work in the informal economy. So the visits to their families are done in their spare time.
District health workers do not provide full medical consultations but work preventively. They provide first aid and ensure that people seek medical attention when needed. That way, symptoms do not worsen unnecessarily.
On the front line
Kat vividly remembers the first time she saw neighborhood health workers at work on the island of Negros. She was hugely impressed. "The district health workers were very enterprising. They even built houses for patients who had to be isolated or whose symptoms called for close monitoring."
She was also amazed at the level of care they provided and the knowledge they possessed. "They knew perfectly where to refer sick people. I am convinced that their work saved many lives, because on Negros the distance to a hospital is great. The neighborhood health workers deserve tremendous respect, because they are the ones on the front lines."
Terrorist
Working as a community health worker is not all roses. The security situation of health workers and human rights defenders in the Philippines is deteriorating. For example, the island of Negros is no longer freely accessible to CHD.
'Every day we are concerned about our safety.'
Kat explains how not only disappointment and frustration but also threats are part of the health workers' daily lives. "Every day we are concerned about our safety, the safety of our families and that of the organizations and neighborhoods in which we work."
The Philippine government makes frequent use of "red-tagging": a technique in which anyone who speaks out against the government is considered a terrorist because they are allegedly members of the Communist Party or the armed New People's Army.
Criminalized for words
Tinay Palabay, secretary-general of the Philippine human rights organization Karapatan, also a partner of Viva Salud, explains how the technique of "red-tagging" affects a very wide range of people. "From TV personalities to people who won beauty pageants. Even priests and journalists are victims. Individuals who do not necessarily hold progressive beliefs, but merely criticize policies. It is unbelievable that people are criminalized for words."
When someone is "saved-tagged," that person often faces false charges such as murder. Police then sometimes hide "evidence" in that person's home or pay people to give false testimony. Mary Lawlor, a United Nations special rapporteur, called this tactic a death threat because people with a "tag" are often murdered.
'I eat threats for breakfast, lunch and dinner. And sometimes also as a snack.'
Tinay Palabay himself also faces regular repression. "The last seven years have been really difficult. I eat threats for breakfast, lunch and dinner. And sometimes also as a snack. They get worse and worse. My safety and that of my family are in danger."
Several false charges are pending against Tinay, she says. "If I am convicted, I have to go to jail for at least six years. It is a tactic of the Philippine government to silence our organization. Over the past seven years, eight hundred innocent Filipinos have been locked up in overcrowded prisons this way."
Suspicious career choice
Kat tells us about Rose Sancelan, who was a doctor on Negros, and former colleague Zara Alvarez. Both were murdered.
Recently, Naty Castro, another doctor, was also illegally arrested. She had been "saved-tagged" for decades and was falsely accused of murder and kidnapping. Fortunately, after two months and a lot of local and international solidarity actions, she was released.
Naty Castro is one of the doctors who has been working at CHD the longest. From the moment she graduated, she went to work with the Lumad, an indigenous community. She came from a prestigious Philippine university, so her career choice was considered suspect by the government.
International solidarity
Naty Castro is not alone. In 2010, 42 CHD health workers were arrested during a first aid training. The Philippine military accused them of making bombs and allegedly hid evidence at the site of the training. The health workers were released only after 10 months.
International solidarity was essential to this story. Kat recounts how an aide to the president sighed at the many letters that came in daily to the palace demanding their release. But even though the health workers were released, to this day it has still not been acknowledged that the evidence was false and the accusers remain unpunished. "In addition to being a health care provider, as a health worker you are also an advocate for patient rights and the broader society."
Social determinants of health
The rights of health workers and activists in the Philippines are constantly being violated: from the right to free speech to the right to self-assemble. Yet these are universal rights enshrined in the Philippine Constitution.
Unions and their members, such as the Alliance of Health Workers, who participate in demonstrations are considered terrorists. Hospital management advises union members against participating in activities supposedly directed against the government.
'Health work does not begin and end in hospitals. We also need to look at what makes people sick, such as poverty.'
Kat defends, however, that full health workers do more than provide care. "As health workers, we cannot just do our medical work in hospitals or in neighborhoods. We must also be critical of the existing political situation. Not only to contradict the dominant discourse, but also to defend the rights of our patients."
"In addition to being a caregiver, as a health worker you are also an advocate for patients' rights and the broader society. Because health work does not begin and end in hospitals. We also have to look at what makes people sick, such as poverty, lack of education, lack of shelter and all the other things that make an existence dignified. We call these the social determinants of health. It determines why poorer people are sick more often than richer people."
Privatization
Meanwhile, the quality of Philippine health care continues to decline. Recently elected President Ferdinand Marcos junior, son of the former dictator, recently stated that he wants to attract more private investors into the health sector.
"We are concerned that this will undermine the quality of health care," Kat says. "Because when you open up a public good like health to investors, profit comes first. This comes at the expense of patients."
'Privatization comes at the expense of patients.'
Kat sees mainly socioeconomic causes for the increased social unrest and subsequent repression. In the Philippines, many people live in poverty. Health workers are also underpaid, some even paid below the minimum wage.
Thus, many people with medical training are forced into other sectors when there are so many shortages of health workers. During the Covid-19 pandemic, they were promised all kinds of things in exchange for the risks they took every day. To this day, thousands of health workers have received nothing.
Big implications
The repression against health workers has a major impact on the population. In the Philippines, there is only one doctor for every 33,000 inhabitants. That number is far below the standard prescribed by the World Health Organization: one doctor for every 1,000 inhabitants.
In addition, most Filipinos do not have access to medicines because they are not affordable or simply absent. As a result, many die from diseases that are perfectly preventable or curable, such as tuberculosis.
Plea for politicizing health work
CHD's work goes beyond a purely biomedical approach to health. They stand up for everything that determines the health of Filipinos, such as rising energy prices, inflation and the repression against health workers.
Kat: "If we did not care about the illegal arrests and killings, how could we convince more doctors, nurses and students to provide health care in the remote neighborhoods where they are most needed but not safe?"
"It is the job of health activists to show what is really going on. That makes people think and will ultimately improve the health of all Filipinos. The times call for health workers to also be activists."
---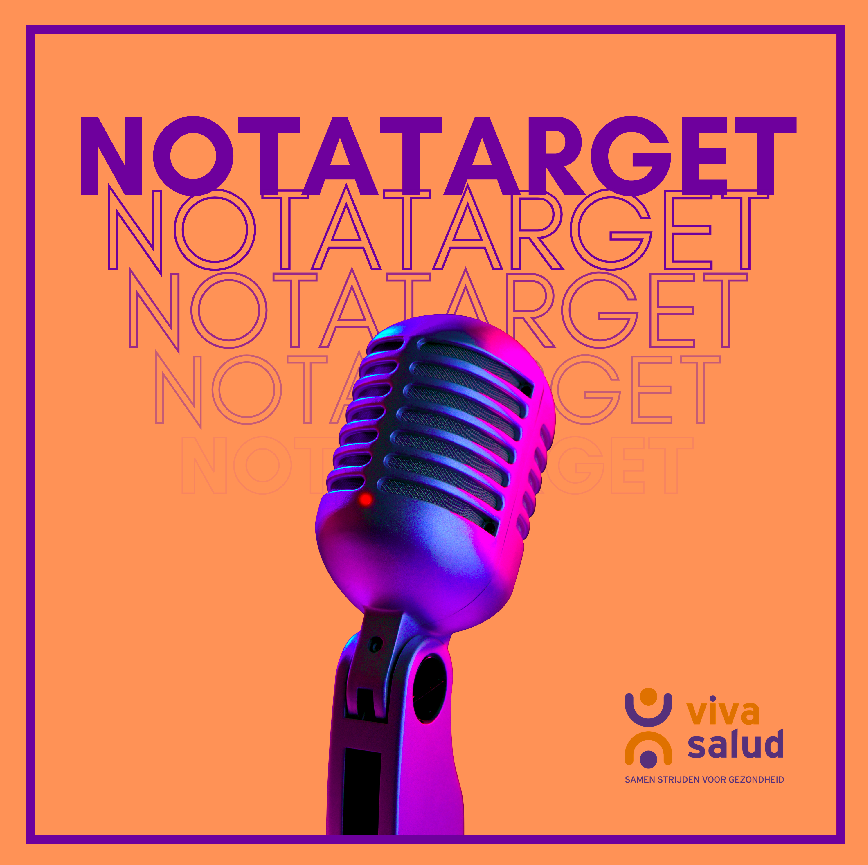 Podcast : Being a health activist in the Philippines
Viva Salud launched the #NotATarget campaign in September. A podcast of the same name was launched on Spotify, where you can hear more from Kat, Tinay and other health activists.
---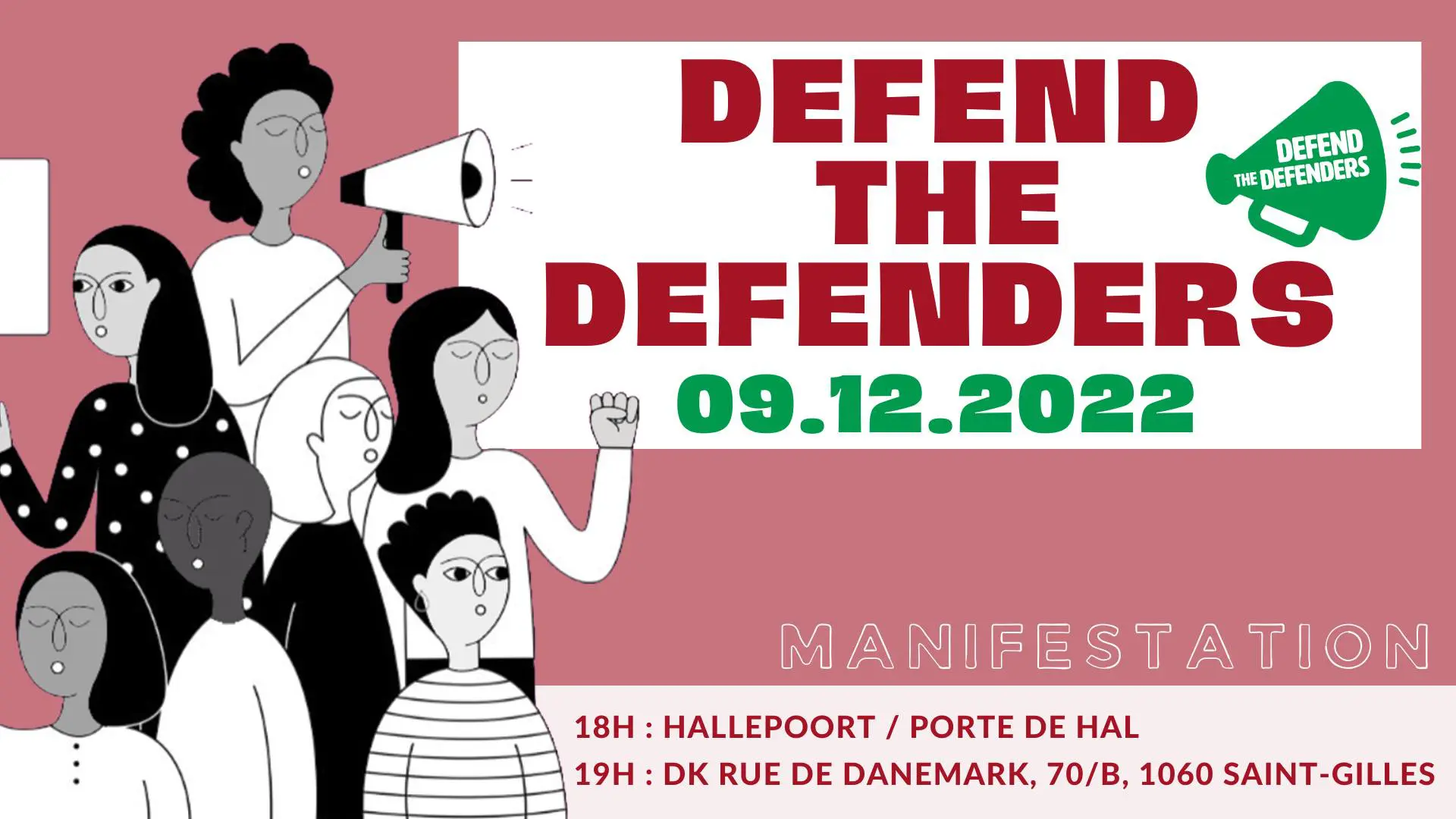 On December 9, various social movements and trade unions will take to the streets of Brussels during Defend the Defenders for International Human Rights Day. At 6 p.m., we will make our voices heard at the Halle Gate in Brussels to strengthen those of human rights defenders worldwide. Will you come too?
---